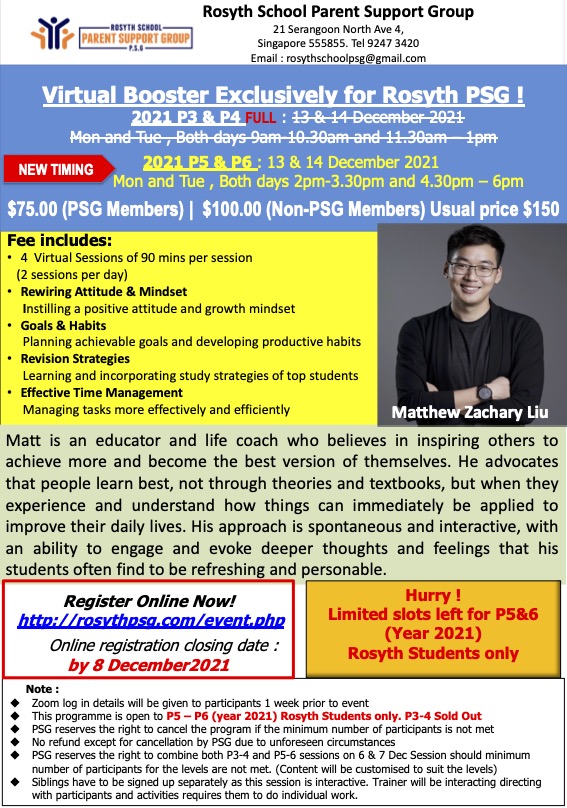 Only a few place left. If we are unable to allocate a place for your registration, we will refund you the payment. Thank you
Virtual Booster Exclusively P5 & P6 (Year 2021) Rosyth PSG !
2021 P5 & P6 : 13 & 14 December 2021 (Monday & Tuesday)
Day 1 Mon : Session 1 - 2pm-3.30pm Session 2 - 4.30pm – 6pm
Day 2 Tue : Session 3 - 2pm-3.30pm Session 4 - 4.30pm – 6pm
Fee includes:
•
4 Virtual Sessions of 90 mins per session
(2 sessions per day)
•
Rewiring Attitude & Mindset
Instilling a positive attitude and growth mindset
Planning achievable goals and developing productive habits
Learning and incorporating study strategies of top students
•
Effective Time Management
Managing tasks more effectively and efficiently
Note :
u
Zoom log in details will be given to participants 1 week prior to event
u
This
programme
is open to
P3 to P6 (Year 2021)
Rosyth
Students only
u
PSG reserves the right to cancel the program if the minimum number of participants is not met
u

PSG reserves the right to

combine both P3-4 and P5-6 sessions on 6 & 7 Dec Session should minimum number of participants for the levels are not met. (Content will be customised to suit the levels)
u
No refund except for cancellation by PSG due to unforeseen circumstances
u
Siblings have to be signed up separately as this session is interactive. Trainer will be interacting directing with participants and activities requires them to do individual work.
Closing Date of Registration : 8 December 2021 or when fully subscribed